This spring saw many additions to our homestead, not the least of which was a motorized honey extractor.
Here you see it bolted down to a pallet with a plywood top - each leg is on a support board in the pallet: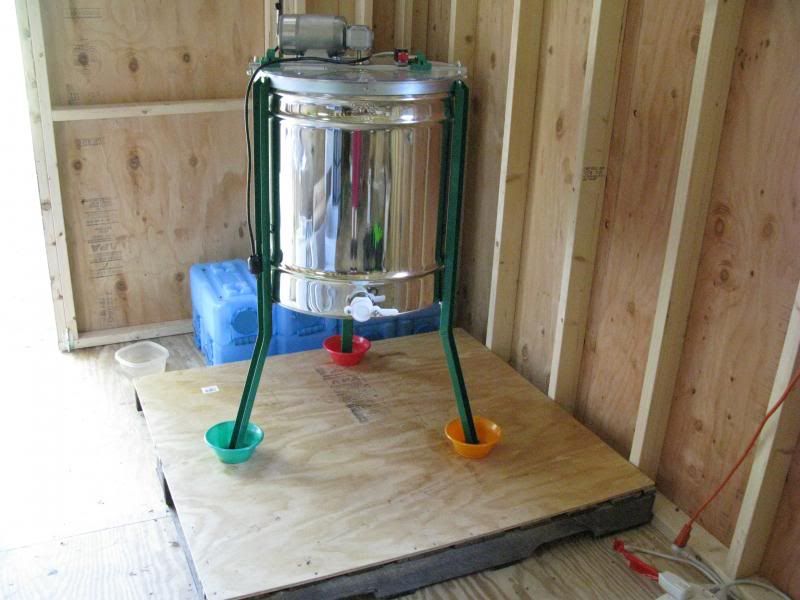 The dish under each leg would later be filled with cooking oil (I used peanut oil because that is what we had on hand) to keep ants out of the machine and out of the honey.
Last month, my father-in-law came to visit and he was interested in the bees. He donned my suit and went out with my hubby and a couple of my kids. One of the honey supers was mostly full, so hubby decided to go ahead and show his dad the process.
We had three generations of our family out in the beeyard collecting a super:
Here is hubby uncapping the honey (this is wet-capped honey):
Frames of honey loaded into the extractor:
Honey and wax flowing out of the honey extractor:
The honey pours into a filter that sits in a bucket:
Three generations watching frames spin in the honey extractor:
Somebody has to hold the lid, right?
My shiny honey extractor selfie:
I cannot imagine having to do that with a crank extractor. We only did six frames and it takes a good bit of spinning to get all that honey out. I'm very glad we have a powered extractor. Although, smaller crank extractors are a lot less expensive.
Also, I got to use the power washer to clean the extractor out afterwards (sorry, no pics since I'm the photographer and the power washer user). I love our power washer and I highly recommend every homeowner and beekeeper have one. Ours is just a dinky one that cost under $100 at Lowes and it still gets a lot done. There were things that I thought were discolored that turned out to be just dirty. It cleans up honey and even soft wax with minimal effort.